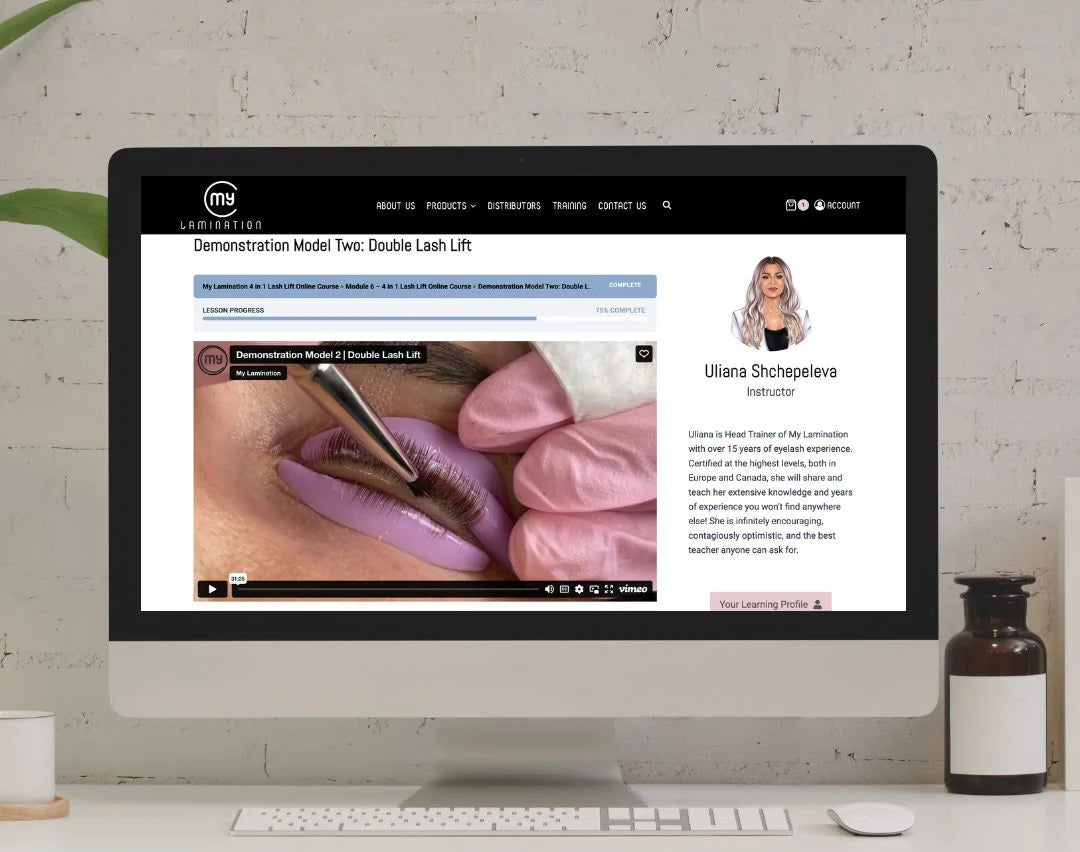 Students get an exclusive 20% discount site wide upon enrolment! 
7 hours of in-person training , 2
hands-on practice models, and a certificate ceremony. This course
includes a Brow Lamination Mini Training Kit, and physical certificate!
Find My Local Trainer
Brow Lamination 4-in-1 Hands On Workshop
Our My Lamination 4 in 1 Brow Lamination Hands On Workshop is an in-person training for Brow Lamination Technicians who already have plenty of experience, and want to learn more about My Lamination Products, perfect their techniques, and gain PRO insight from our top My Lamination Brow Lamination Trainers. The workshop does not include any online theoretical content.
During your 4 in 1 Hands On Workshop, you will get to master with your trainer face-to-face:
Mineral Brow Lamination
Vitamin Brow Lamination
Tinting
Shaping
Schedule: 10:30 AM to 5:30 PM (7hrs)
10:30 – 1:30 > Hands on Model #1 (Mineral Brow Lamination)
1:30 – 2:00 > Break
2:00 – 5:00 > Hand on Model #2 (Vitamin Brow Lamination)
5:00 – 5:30 > Certificate Ceremony
This course includes a Brow Lamination Mini Training Kit ($230.00 CAD retail value) which contains enough product for up to 50 clients. You can choose to upgrade to a full kit for an addition $120.00 ($435.00 CAD retail value). Just click "Training Kit Comparison" to see which kit best suits your needs!
NOTE:
● You are responsible for bringing your own models, please notify us if you need any assistance.
● Training Kit will be shipped to your address provided during checkout. Please ensure that this address is correct.
CANCELATION/REFUND POLICY:
In-Person Trainings (Bootcamp & Workshop) may be cancelled and refunded by a minimum of 2 weeks prior to course date. If cancellation is requested between 2 weeks – 3 days days prior to course date, customers will receive 50% of their course fee back. There will be no refund issued if course is cancelled within 3 days of the course date, or if the student does not show up to their in-person training.
Note: Online training ($300.00 CAD) is not subject to any refunds. If Bootcamp was purchased, 300$ will not be refunded as customers gain access to the online portion of the course as soon as they make their purchase. Only the remainder of the "in-person" portion of the Bootcamp course ($299.00 CAD) is subject to the refund policy stated above.