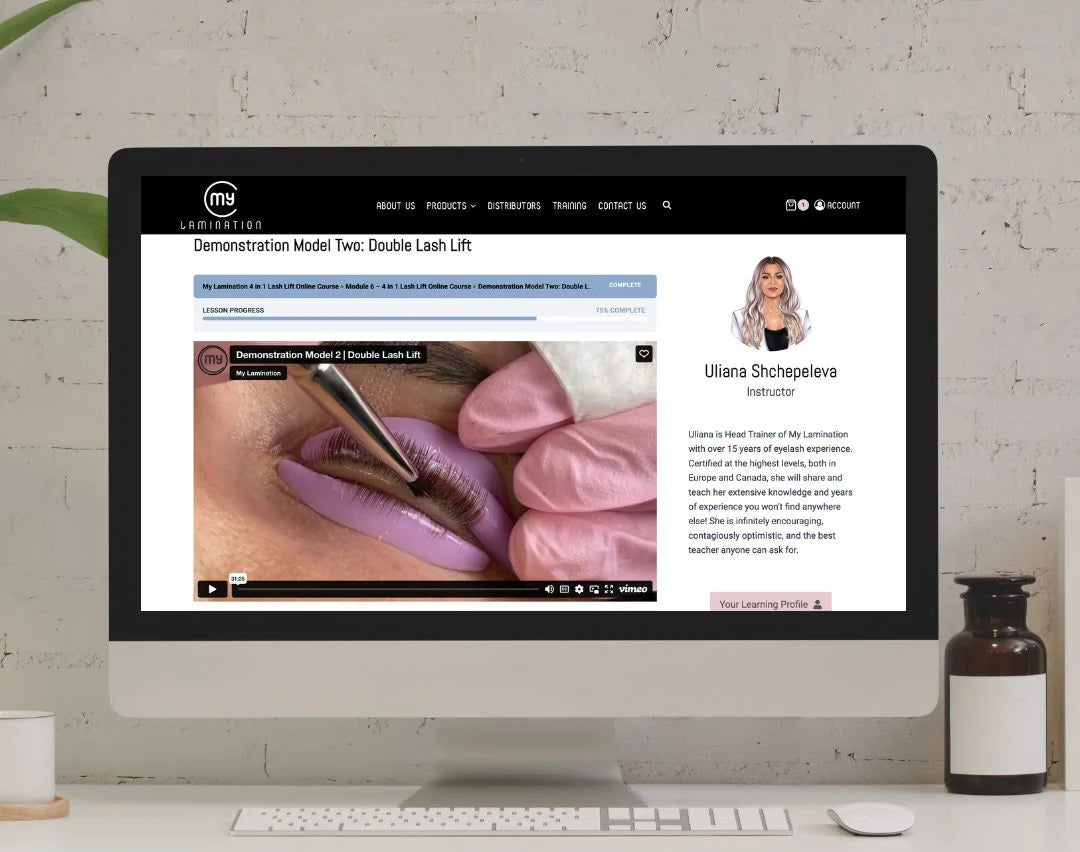 8+ hours of online theoretical content, demonstrations, quizzes, and a final assessment. Includes virtual certificate. Closed Captioning
translation is available in French, Turkish, and Farsi with more languages to come!
40 Lessons – 6 Modules
Students get an exclusive 20% discount site wide upon enrolment! 
If you'd like to inquire about this training, please contact your local trainer below
Find My Local Trainer
4-IN-1 LASH LIFT ONLINE TRAINING
Want to join the My Lamination family and become a certified Lash Lift Technician, accredited by a globally award winning company? Become the best in your field with our 4 in 1 Online Training! Our Training is the most comprehensive Lash Lift Training on the market and is suitable for complete beginners, as well as experienced Lash Techs who are looking to refresh their knowledge. Gain access to 8+ hours of intricate and detailed information about the Lash Lifting process and our infamous My Lamination Products. Learn pro techniques from our top My Lamination Trainers across Canada and master 4 amazing skills in one course:
Lash Lifting and Tinting
LashBrow
Lash Lift Relaxing
Bottom Lash Lifting
Once you have completed our 4 in 1 Lash Lift Online Training, you will be required to complete an assignment where you must perform a Lash Lift and document your process. Send the photos to us for assessment and become an officially certified My Lamination 4 in 1 Lash Lift Technician. You will be equipped with all the skills and knowledge you'll need to begin practicing your Lash Lift techniques and starting your own business
NOTE:
● We highly recommend purchasing one of our Training Kits (Full Kit $320 or Mini Kit $200). You will be able to purchase the specially priced kits once you have paid and enrolled in your course.
● You will have access to the online training for a maximum of 1 year.
CANCELATION/REFUND POLICY: Online Training is not subject to any refunds.
Look over the curriculum below to know what to expect!
Module 1
Lesson 1 | Introduction
Lesson 2 | Treatment or Procedure
Lesson 3 | Eyelash anatomy
Lesson 4 | Science behind a Lash Lift
Lesson 5 | Disinfection
Lesson 6 | Allergies

Module 2
Lesson 1 | Contraindications
Lesson 2 | Eyelash Assessment & Eyelash Classification
Lesson 3 | Multilayered Lashes & Downward lashes
Lesson 4 | Golden Ratio
Lesson 5 | Types of Shields
Lesson 6 | Lifting & Neutralising Cream Placements
Lesson 7 | Palette Set up & Sachets

Module 3
Lesson 1 | Prep lashes before a Lash Lift/False Lash Layer
Lesson 2 | Lash Lift Glue: Classic & Balm
Lesson 3 | Eyelash wrapping
Lesson 4 | Lifting Cream application
Lesson 5 | Time Cheat Sheet
Lesson 6 | Lash Check Control & Solution Removal

Module 4
Lesson 1 | Neutralising Cream application
Lesson 2 | Root Tension Compensation
Lesson 3 | Eyelash Tint
Lesson 4 | Eyelash Wash
Lesson 5| Vitamin & Mineral LashBrow Treatment

Module 5
Lesson 1 | Hydrating Serum
Lesson 2 | Bottom Lash Lift
Lesson 3 | Lash Lift Reverse
Lesson 4 | Frequently Asked Questions
Lesson 5 | After Care Instructions
Lesson 6 | Products Overview
Lesson 7 | Check List

Module 6
Lesson 1 | Products Overview
Lesson 2 | Consent Form Example
Demo 1 | Lash Lift
Demo 2 | Double Lash Lift
Demo 3 | Lash + Brow Lift